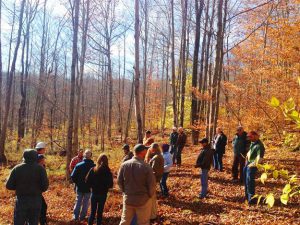 In 1988, the Commonwealth of Pennsylvania introduced the Pennsylvania Hardwood Initiative for the purpose of promoting the Commonwealth's vast natural resource. As part of this initiative, the Northern Tier Regional Planning and Development Commission received a grant through the Department of Commerce to promote the Program within the five counties of Bradford, Sullivan, Susquehanna, Tioga, and Wyoming. The Northern Tier forestry resource already exerts a worthy impact on the State economy.
Over 58% of the area of the Northern Tier's 4,007 square miles is forest, with 89% being hardwoods. There are over 115 wood-related industries employing over 3,500 persons. Our forests produce approximately 10 percent of the entire saw timber produced within the Commonwealth of PA. Yet, the Initiative envisions that with a coordinated effort between the harvesters, manufacturers, landowners and the public sector, this natural resource possesses an even greater potential for utilization and expansion.
Therefore the Northern Tier Hardwood Association, a non-profit organization was created to foster and promote the forestry industry in the Northern Tier Region. In 2007, the Association expanded the service area to include Pike, Wayne, Lackawanna, and Luzerne counties.